Home
Step (1.), ONE
Step (2.), Two
Step (3.), Three
Step (4.), Four
Step (5.), Five
Step (6.), Six
Step (7.), Seven
Step (8.), Eight
Step (9.), Nine
Step (10), Ten
Step (11), Eleven
Step (12), Twelve
Bible Verses for People in Recovery
Relapse
Smoking & Addiction
The Emotional Dimension of Recovery
Q & A
.The Inner Stregnths
Steps of Denial
The Lives we Lived
Made Amends
Like Others
under construction
under construction
under construction
under construction
under construction
under construction
under construction
under construction
under construction
under construction
under construction
under construction
under construction
under construction
under construction


Were entirely ready to have GOD remove all these defects of character.

"If you are willing and obedient, you will eat the best from the land." (Isaiah 1:19)

This almost feels like an "extra" step, but it makes sense in the overall pattern of the steps of recovery. Before we turn our lives over to a higher power, we "come to believe" in that higher power. Before we give up our defects of character, we become "entirely ready" to have God remove these defects. You will notice when looking at the steps there is often a "warming up" step to prepare us emotionally, mentally, and spiritually to take an action step. We are being prepared to take action whereas before sobriety we would tend to not deal with the things straight away.

"You know, it never occurred to me that I might "like" my character defects. I was, personally used to being a victim. I was used to being selfish. These behaviors were like a favorite old shirt
I kept wearing even when it'd become an eyesore and embarrassment. Frankly, I was addicted to whining and complaining. I would lay things down at the alter and before I left the church go back and pick them back-up, so I had something to complain about during the week, it sounds crazy now but I loved my own mess. I was addicted to feeling sorry for myself. I was addicted to blaming other people for my problems. The fifth step took a while for me, I had to really, really work at this step. I had to test the waters, so to speak. I had to try a few times to see what it was like to face a problem head on without relying on my usual behaviors of guilt, victimization, and blame. It was scary at first, but I could feel a new-found sense of empowerment. I could trust my higher power to give me the tools to deal with life. I didn't have to fall back on those self-defeating behaviors. I was ready to have those defects removed. What made me let go is I finally realized I wasn't in this boat alone, yet what was mine, was mine I had to be honest allowing God to change my thinking." Pam T.

This might be considered a period of self-reflection After writing what I did in steps 4 and 5, and seeing the exact nature of my wrong, it is obvious that I would want those defects removed just like a cancer! Removed, well, replaced is another way of looking at it, if you have problems with God and don't know how God is going to remove those defects. Well you could start to add things to your character such as tolerance, patience, gratitude, honesty, courage, humility etc these lead to a balanced life, they eventually lead to peace.

Remember we are always here you can call upon us any time....

BTEM1985@Aim.com


323-907-8212 .(cell)
SU-250000-106-SUEM
6.00E+000
Serenity Prayer:
Click the picture a great Singer,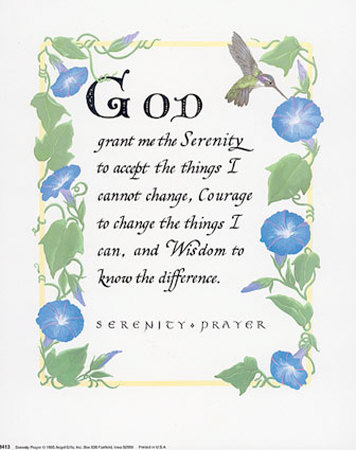 Serenity Prayer /\
Click the picture a great Singer,
*************************************************************

St. Francis Prayer:
Click the picture one great band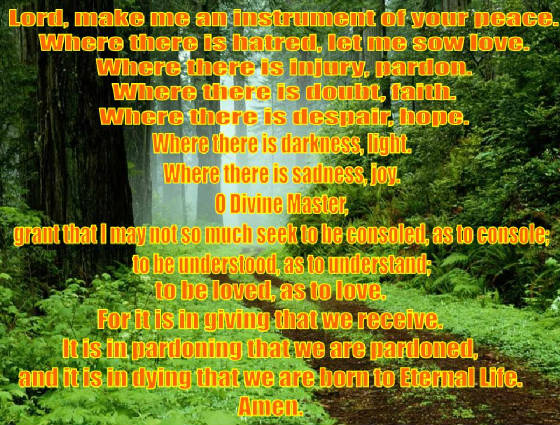 St. Francis Prayer /\
Click the picture one great band
Hope you like these common "Prayers," I know they have made huge changes in my life as helped me to keep God focused. This site, These are just sections from papers over the years, I have been doing this since 1985 when I was the Spiritual Advisor for a center and the development director for another over the years. I learned that recovery can take on a great number of faces for different people. Although, one thing I have always believed is Faith Based Recovery has an indwelling success rate unlike any other form. However, I talk to people all over the world and meet people who's belief system in not as mine, we do not judge people, we do not categorize people in little groups, what is important is your recovery regardless of your sex, religion, or national origin. Sure it would be nice to know that everyone was in a personal relationship with The God our Savior Creator and Salvation, this site is meant to help you establish, (If you have not done so already), and or keep a strong recovery life daily. A tool. I have been greatly blessed, in that, God has opened doors in other countries around the world for us. Many of you know already, for those that do not, I have a disc & Nerve disease, it is real hard for me just to be able to do what normal people do everyday, I say this to say that, it may take me some time but I usually get around to getting things done. I do write for more than one on-line site, if you don't see activity here does not mean that I will not get around to posting papers, there are time when I get stuck in bed for periods.
This site is meant for you... You matter, don't let anyone ever lead you to believe differently. God made you unlike anyone else, even though we kind-of look similar to others, there are very many great things about us God made just for us / in us.. Remember that! And Live accordingly. :) :)