Home
Step (1.), ONE
Step (2.), Two
Step (3.), Three
Step (4.), Four
Step (5.), Five
Step (6.), Six
Step (7.), Seven
Step (8.), Eight
Step (9.), Nine
Step (10), Ten
Step (11), Eleven
Step (12), Twelve
Bible Verses for People in Recovery
Relapse
Smoking & Addiction
The Emotional Dimension of Recovery
Q & A
.The Inner Stregnths
Steps of Denial
The Lives we Lived
Made Amends
Like Others
under construction
under construction
under construction
under construction
under construction
under construction
under construction
under construction
under construction
under construction
under construction
under construction
under construction
under construction
under construction


Continued to take personal inventory and when we were wrong, promptly admitted it.

"For by the grace given me I say to every one of you: Do not think of yourself more highly than you ought, but rather think of yourself with sober judgment, in accordance with the measure of faith GOD has given you."
(Romans 12:3)

Step 10 begins the "maintenance" steps. Anyone who has been on a diet knows that losing the weight is a challenge, but not nearly as big a challenge as keeping from retuning to old habits under-minding the work we have done thus far. Step 10 begins life-long practices that are meant to help us avoid complacency or falling back into old behavior and thinking patterns that could lead to using alcohol or drugs again.

Taking a personal inventory on a daily basis enables us to catch ourselves right away, rather than rebuild a negative pattern until it becomes a way of life again.
This is where I see step 10 In short, we practice opposites, when fear tells you to turn back; you go forward and face it. When resentment starts justifying its presence, just look at your defects, and look at your perceptions and your reactions. When the past re- emerges it self, as it will and guilt bites at you again, say "my Higher power has forgiven me, this is old stuff." so don't believe those guilty thoughts, look for the good, think, "That was then, this is now". Things from the past will pop into our mind at the strangest of times. Just write it down and look at it, just as you did in steps 4 and 5. When the depressing feelings come back, say, "You have been here before, I turn all this over to God my shelter." Now do your best to do your best and leave it at that.
As we continue to take personal inventory, we reflect on all the knowledge and wisdom that we've acquired through working the previous Steps. Every day becomes an adventure, as we strive to achieve what is good and right for ourselves and others. Our new and true inner voice directs our every step on our march towards everlasting joy, peace of mind, and personal freedom. We come to realize that all of our experiences have led us to this point, and that we are precisely where we're supposed to be right now. Righteous living, integrity, honesty, and positive motivation become a way of life. We start to become more secure in our recovery, and we start to appreciate the foundation that we've built.


To continue traveling down the right path, it is suggested that we not only continue to take personal inventory, but that we also promptly admit our wrongs. Our plate has been cleansed through working the first nine Steps, now we have to maintain and preserve our uprightness. In order to uphold our improved state of being, we must admit when we're wrong, and do our utmost to correct our character flaws, while we continue to abide by the suggestions of the program. We begin to become comfortable with ourselves, with our new way of life, and all of the tools that we've learned thus far on our journey. We've come to understand our disease of addictions, and we've learned how to rise above its deadly grips. We continue to live and to learn, to work the Steps, to go to meetings, to keep in touch with a sponsor, and to associate with clean and sober people who are supportive of our recovery. As we continue to live upon this strong and secure foundation, we know that life awaits with all its wonders. We no longer have to live in fear and regret. We've transformed into spiritual beings, which are ready and willing to achieve the desires that drive us forward. Imagination and vision expose a Light that's bursting of new and exciting adventures.
Remember we are always here You can contact us

BTEM1985@Aim.com

323-907-8212 (cell)
SU-250000-110-SUEM
10E000.00
Serenity Prayer:
Click the picture a great Singer,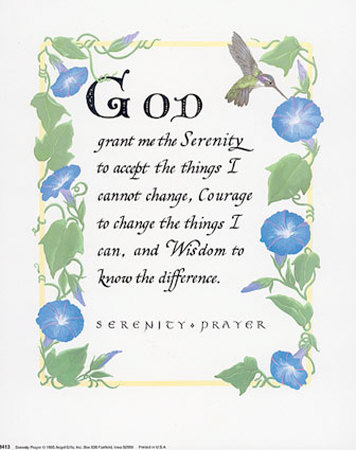 Serenity Prayer /\
Click the picture a great Singer,
*************************************************************

St. Francis Prayer:
Click the picture one great band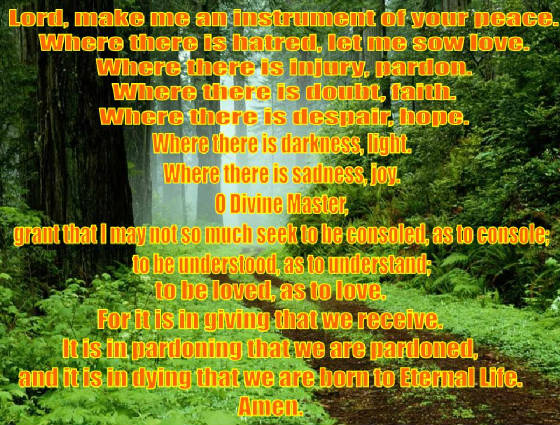 St. Francis Prayer /\
Click the picture one great band
Hope you like these common "Prayers," I know they have made huge changes in my life as helped me to keep God focused. This site, These are just sections from papers over the years, I have been doing this since 1985 when I was the Spiritual Advisor for a center and the development director for another over the years. I learned that recovery can take on a great number of faces for different people. Although, one thing I have always believed is Faith Based Recovery has an indwelling success rate unlike any other form. However, I talk to people all over the world and meet people who's belief system in not as mine, we do not judge people, we do not categorize people in little groups, what is important is your recovery regardless of your sex, religion, or national origin. Sure it would be nice to know that everyone was in a personal relationship with The God our Savior Creator and Salvation, this site is meant to help you establish, (If you have not done so already), and or keep a strong recovery life daily. A tool. I have been greatly blessed, in that, God has opened doors in other countries around the world for us. Many of you know already, for those that do not, I have a disc & Nerve disease, it is real hard for me just to be able to do what normal people do everyday, I say this to say that, it may take me some time but I usually get around to getting things done. I do write for more than one on-line site, if you don't see activity here does not mean that I will not get around to posting papers, there are time when I get stuck in bed for periods.
This site is meant for you... You matter, don't let anyone ever lead you to believe differently. God made you unlike anyone else, even though we kind-of look similar to others, there are very many great things about us God made just for us / in us.. Remember that! And Live accordingly. :) :)